The UNIDIR Academy serves to build disarmament-related capacity and global security expertise among diplomats and other State representatives from around the world.
Its aim is to equip relevant stakeholders with the knowledge they need to navigate the 21st century global security environment and to make a significant contribution to the maintenance of peace and security.
The UNIDIR Academy offers tailored courses for a broader public, notably youth, to ensure sustained public awareness of some of the most pressing global security challenges of our time.
The Academy draws from UNIDIR's pool of high-quality and diverse research and training expertise. UNIDIR's staff members come from 24 different countries and together speak over 17 languages, including all UN official languages.

Some 88% of UNIDIR staff hold either a master's and/or a PhD degree and they come from a variety of disciplinary backgrounds including engineering, law, science, negotiation, international affairs, public policy, political science, and management.
The UNIDIR Academy also works in close partnership with others, notably UNODA, UNITAR, academic institutions and think-tanks from all regions of the world to synergise strengths and offer high-quality education.
 
Disarmament Orientation Course
in collaboration with the United Nations Office for Disarmament Affairs (UNODA)
This online orientation course for Geneva disarmament diplomats is designed and presented jointly by UNIDIR and UNODA. It consists of six thematic modules, each comprising a reading list, an introductory video and a 120-minute interactive online videoconference session.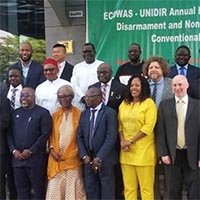 ECOWAS-UNIDIR Regional Seminar on Disarmament
in collaboration with the Economic Community of West African States (ECOWAS)
This annual event that brings together global subject-matter experts to discuss past and current developments across a spectrum of disarmament and arms control issues. The Seminar is part of a joint effort to enhance cooperation and dialogue on arms control and disarmament in the ECOWAS region.